20 Best Oaxaca Tours You Won't Want to Miss in 2023
Ready to book the best tours in Oaxaca?
Oaxaca is one of most beloved destinations in Mexico. There's everything from the vibrant capital of Oaxaca City, to the surrounding Sierra Sur mountains — and the best way to see it all is with a local guide on some Oaxaca tours.
This elegant and culturally rich city is surrounded by natural splendor and ancient ruins. The people express their creativity through politically-charged street art, elaborate handicrafts, and the flavorful Oaxaca cuisine.
On the Top 20 best Oaxaca tours featured in this article, you'll immerse yourself in the beauty and intriguing history of the region — one of the most unique places in Mexico, and one of its most complex.
Taste amazing foods in Oaxaca City's three most-popular markets on various Oaxaca culinary tours, explore the street art scene by bicycle, or go on a day trip to the region's famous petrified waterfalls at Hierve el Agua.
These Oaxaca excursions and tours will introduce you to the special magic of Oaxaca. Without further ado, let's get to this list so you can discover what are soon to be your favorite Oaxaca day tours.
Best Oaxaca Tours for Travelers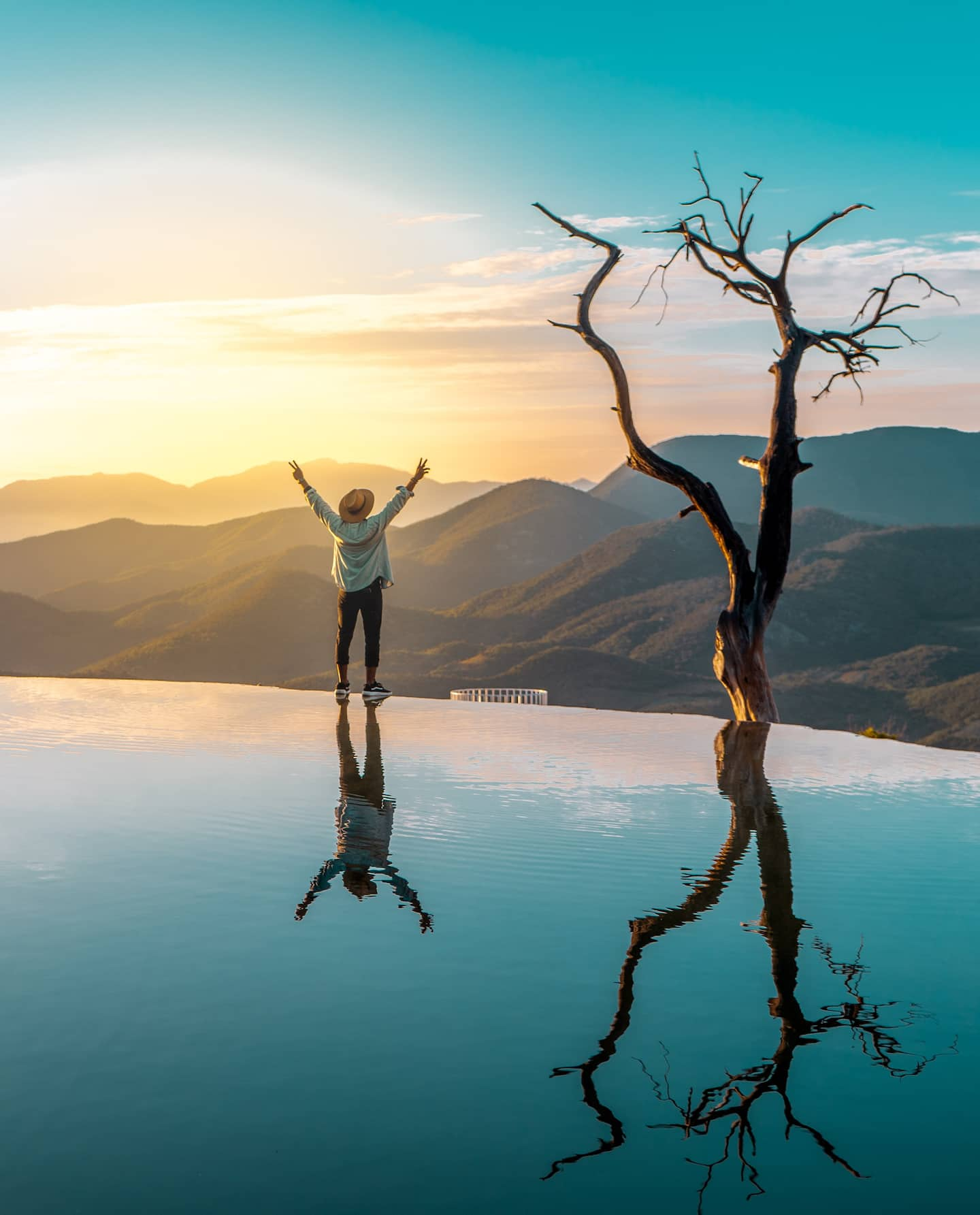 ⏰ Tour Length: 12 hours | ⭐️ Rating: 4.93 out of 5 Stars | 💧 Book now
One of the best tours to Hierve el Agua Oaxaca Mexico, this 12-hour hike and mezcal tasting tour is a must do.
The day starts bright and early with a 6am start, because the best time to visit Hierve el Agua is early. You can spend the two-hour drive to San Isidro Raoguía waking up slowly, enjoying the scenery, or taking a nap.
Once there, you'll eat a yummy breakfast with a local family. Next, you'll get plenty of free time to explore the rock formations at Hierve de Agua, relax in the thermal pools, and enjoy the natural beauty.
After that, you'll go on an approximately three-hour hike over rugged terrain to find a hidden waterfall that few tourists know about. How cool is that!?
The tour finishes off at the home of a master mezcal-maker in Matatlán, one of the best places for Oaxaca mezcal. You'll have lunch with his family and try a dozen or so different mezcals.
Are you excited yet?! You should be — this is one of the best things to do in Oaxaca City, and Hierve de Agua is one of the must see Oaxaca sites in the whole state.
Best Oaxaca Tours
⏰ Tour Length: 7-8 hours | ⭐️ Rating: 5 out of 5 Stars | 🥾 Book now
With a perfect 5 Star rating, Monte Alban Ruins & Beyond is the best of all Monte Alban tours Oaxaca has to offer.
During this full day, nine-hour experience you'll explore the ancient Zapotec capital of Monte Albán. Your super storyteller guide will explain the history of the ruins and talk about the treasure that was found there.
Next, you'll visit San Martín Tilcajete to learn and see how Oaxaca alebrijes are made. These colorful wooden folk art creations represent mythical beasts, and each one is unique.
After that, you'll meet some famous woman cooks in Mercado de Ocotlán in the small town of Ocotlán. This is one of the best markets in Oaxaca, and you'll be able to buy artesanias (artisan souvenirs) and a delicious lunch.
Last of all, you'll learn about barro negro, the black clay ceramics in San Bartolo Coyotepec. Past guests have said they loved meeting and learning from each of the artisans on this tour.
Unsure about taking Monte Alban Oaxaca tours? Don't hesitate to book this one with a perfect Five Star rating ⭐️ It also includes bottled water, transportation from your Oaxaca hotel, and an expert guide.
Best Oaxaca Tours
⏰ Tour Length: 6 hours | ⭐️ Ratings: 4.98 out of 5 Stars | 🥃 Book now
The history of mezcal dates back hundreds of years, and this Educational Mezcal Tour with Alvaro explores the history, culture and tradition surrounding the national spirit of Mexico.
The experience starts with a visit to the Oaxaca villages of San Pablo Villa de Mitla (usually called Mitla Oaxaca for short) and Santiago Matatlán. These are two of the best places to see artisanal Oaxaca mezcal production.
Santiago Matatlan Oaxaca is known as the World Capital of Mezcal. This is where the majority of Oaxaca mezcal comes from, and most mezcaleros (mezcal makers) use artisan methods passed through generations.
Mitla is a Oaxaca pueblo magico (magic town) known for its culture, history, ancient ruins, architecture and mezcal — locally called la bebida de los dioses, or "the drink of the gods."
Here, you'll start your walking tour through rows and rows of agave plants. After some activities and photos, you'll take a mezcal factory tour. On this tour, you get a front row seat to see how mezcal is made.
Of course, no Oaxaca mezcal tour is complete without a mezcal tasting (or two). The experience ends with a traditional Oaxacan food lunch — which will obviously include more mezcal.
Best Oaxaca Tours
⏰ Tour Length: 3-9 hours per day | ⭐️ Rating: 5 out of 5 Stars | 🇲🇽 Book now
If you're looking for two jam-packed days of Oaxaca sightseeing, look no further than this awesome Monte Alban Tour & Beyond with one of the best Oaxaca tour companies.
As one of the best private tours in Oaxaca, you're in charge. You get to customize your itinerary and enjoy a number of amazing stops over the course of two days, like the Prehistoric Caves of Mitla, El Tule Tree and Monte Alban Ruins.
A must see Oaxaca landmark, don't miss Monte Alban archaeological site. Here, you'll enjoy a guided tour of all the most intriguing parts of the ruins and learn about the life and culture of long-lost civilizations.
After enjoying Monte Alban to the fullest, you'll explore the Oaxacan artisan town circuit. The Ruta de Artesanias (Oaxaca Art Route) includes towns like Teotitlan del Valle, Santiago Matatlan and San Bartolo Coyotepec.
In these towns (and a few more), you'll learn about natural dyes and rug-hooking, fantastical wooden alebrijes, barro negro black pottery, locally-made Oaxacan mezcal, and Oaxacan textiles made on a backstrap loom.
To round out the fun, you'll hike up to the prehistoric Mitla Caves for a peek at red, white, and black petroglyphs. There's also a visit to the Mitla Ruins in Oaxaca, a 16th century Catholic church and Puerto Morelos Market.
This tour includes transportation, and parking. No meals or beverages are included.
Best Oaxaca Tours
⏰ Class Length: 4.5 hours | ⭐️ Rating: 4.98 out of 5 Stars | 👩‍🍳 Book now
Ready to experience one of the highest-rated cooking classes in Oaxaca City? Then you must book this Traditional Oaxacan Cooking Class with Sonia Silvia.
Sonia is a local woman who's had a passion for traditional Oaxacan cuisine since she was a child. Her love of Oaxaca food is infectious, and she even passed it down to her son, who assists with the class.
Sonia learned how to cook from her mother, using clay pots and preparing dishes al carbon (over charcoal). Today, she continues learning from some of the best traditional chefs in the region of Oaxaca.
Sonia begins the class by showing you the different ingredients you'd typically find in a traditional Oaxacan kitchen. She'll even take you for a quick look around her garden, where she grows herbs and organic chilies.
Sonia's knowledge of food will be matched by her son's knowledge of locally-made Oaxaca mezcal. He'll guide you through some of the region's best mezcals and invite you to experience them during a mezcal tasting.
There is one catch, though! You'll need to drink it Oaxacan style, which includes consuming chicatanas (winged ants), chapulines (grasshoppers), and gusano (worms). Are you brave enough?
Next, it's time for the main event. Sonia will show you how to make handmade tortillas, tetelas and memelas. She also specializes in salsas made the old school way, in a molcajete (Mexican mortar and pestle).
During the class, you'll be able to create one of the seven Oaxacan moles from scratch. You'll leave completely satisfied, but do make sure to come with an empty stomach.
If you want to cook authentic Oaxacan food in a family home while also trying some of the region's best mezcal, then this is the experience for you. Note: Classes are in English and Spanish, with vegan and vegetarian options.
Best Oaxaca Tours
⏰ Tour Length: 4 hours | ⭐️ Rating: 4.98 out of 5 Stars | 🌮 Book now
The Oaxaca Markets Tour with Betsy is the highest-rated and best Oaxaca street food tour.
Tasting local foods is an amazing way to delve into the culture of Mexico outside Mexico City — and there's no better way to do that than on a food tour with a local guide to show you around so you skip the tourist traps.
Head into the best markets of Oaxaca and eat like a local. This is one of the Oaxaca Mexico food tours where you'll taste more than 20 different traditional dishes and drinks from both Oaxaca City and Oaxaca state.
On this Oaxaca Mexico food tour, you'll explore three of the top markets in Oaxaca City: La Cosecha Organic Market, November 20th Market (Mercado 20 de Noviembre), and Mercado Benito Juárez Market.
Delve into the flavors, aromas, traditions, and culture of Oaxaca with your expert host, Betsy. She shares local secrets and great recommendations to help you have an amazing time while traveling to Oaxaca.
This is one of the Oaxaca food tours that includes authentic Oaxaca food, all dishes and beverages, and a Oaxaca tour guide. It's hosted in both English and Spanish.
Best Oaxaca Tours
⏰ Tour Length: 1.5 hours | ⭐️ Ratings: 4.96 out of 5 Stars | 🥃 Book now
This Mezcal and Mole Tour is led by Daniel, a professional mezcal sommelier. It's a once-in-a-lifetime, immersive adventure into the worlds of Oaxaca mezcal and Oaxaca mole — and one you'll never forget.
Located in a mountain-view tasting room, participants will taste all seven moles of Oaxaca (Note: They're all vegetarian). Each Oaxacan mole has been perfectly paired with seven artisanal and ancestral mezcals.
Each mezcal has been carefully chosen to showcase the characteristics of different agaves. By the end of the meal, you'll have a full belly, a nice buzz, and a vast knowledge of Oaxaca mezcal!
Along with tasting delicious moles and mezcal, this experience is the perfect place to learn about and discuss traditional Mexican foods and Mexico's rich gastronomic heritage.
If at the end you discover a mezcal you particularly love, you can also buy one to take home with you as a souvenir. After all, mezcal is one of the most popular Oaxaca souvenirs visitors take home.
Note: This experience is great for vegetarians and vegans; all the Oaxacan moles are vegetarian, but can be made vegan upon request. English and Spanish tour options are also available.
Best Oaxaca Tours
⏰ Tour Length: 9 hours | ⭐️ Ratings: 4.97 out of 5 Stars | 🎨 Book now
If you're looking for a once-in-a-lifetime experience, book this Oaxaca Zapotec Tour with Yeti and Ale now! The hosts are sisters, locals and certified tour guides in Oaxaca City.
During the experience, you'll visit five different locations. At each, you'll learn how to make different handicrafts and Oaxaca arts, and even get to participate in the process yourself. How fun is that?!
Learn how to weave tapetes (Oaxaca wool rugs), make beeswax candles, eat delicious Oaxacan food, see how red pottery is made, and taste artisanal Oaxacan mezcal. That's right, there's even a mezcal tasting.
At each stop, the artisans give great explanations about the history and evolution of their craft. In case you didn't know, Oaxaca is known as the artisan capital of Mexico, famed for alebrijes and other artesanias (handicrafts).
Guest reviews loved the super storytelling hosts, the chance to meet and chat with locals, and the opportunity to gain insight into the intriguing and colorful world of Oaxacan artists.
This is definitely one of the best artisan tours Oaxaca has to offer, and is a great way to try mezcal without booking one another tour. 🥃 Note: if you really love mezcal, nothing beats these best Oaxaca mezcal tours.
The Zapotec Tour includes drinks, transportation, and an expert guide. It is offered in English and Spanish.
Best Oaxaca Tours
⏰ Tour time: 2 hours | ⭐️ Rating: 5 out of 5 Stars | 📸 Book now
Join Juan Pablo on this Oaxaca Walking Tour with a Local Photographer to see the city and improve your photo skills at the same time. As one of the most beautiful cities in Mexico, this is the best way to capture the memories.
You and Juan Pablo will walk through Downtown Oaxaca City, exploring local streets to create incredible shots of Mexican dancers in typical Oaxaca dress, gorgeous buildings and more.
The coolest part of this tour? You'll take photos of Oaxaca City with your own phone camera, or "real" camera, if you have one. Juan Pablo will show you features and techniques that you can use in all future photos.
The tour concludes at El Volador Café, one of the best Oaxaca City restaurants, located near the beautiful and famous La Cruz de Piedra. If you need more Oaxaca tips, Juan Pablo can offer them here.
Best Oaxaca tours
⏰ Class Length: 5.5 hours | ⭐️ Rating: 5 out of 5 Stars | 👩‍🍳 Book now
This Traditional Oaxaca Cooking Class is hosted by Noemí López AKA "Mimi." She became a bit of a celebrity in Oaxaca after taking second place for her pipián de nopales dish in the Meeting of Traditional Cooks in Oaxaca.
Mimi's love for the kitchen started at a young age, as she often cooked alongside her mother. Her passion grew even further when her mother-in-law gave her recipes that had been in the family for more than four generations.
Once you arrive, Mimi, her son, Charlie, and their dog, Simba, will welcome you into their home. The class starts with Mimi introducing you to the organic ingredients used in your class.
Before you start cooking the main meal, you'll enjoy some snacks. These include the famous queso Oaxaca cheese that Mimi has been making herself for more than 25 years, chapulines (Oaxaca grasshoppers), and a mezcal toast.
Next, you'll taste each of the seven Oaxaca moles, and prepare your favorite. Along with moles, you'll also learn how to make tortillas a mano (by hand) and cook them on a comal, and even try some Oaxacan desserts.
Mimi provides guests with an authentic experience, and hers is one of the best cooking classes in Oaxaca City — with a 5 Star rating. Note: Classes are available in English and Spanish, with vegan and vegetarian options.
Best Oaxaca tours
⏰ Tour Length: 4.5 hours | ⭐️ Rating: 4.98 out of 5 Stars | ⛰️ Book now
In the market for hiking tours in Oaxaca Mexico? With a near-perfect rating, the Hiking in the Mountains of Oaxaca experience with Margo is an awesome choice. The hike is 2.5 hours, and of moderate difficulty.
Along the way, you'll learn about many local plans, animals, and birds. At the top of the mountain, your guide Margo performs a ritual to help you connect to the earth and feel more grounded.
To round off the tour, you'll eat a yummy meal prepared by a local family. Besides trying some authentic Oaxaca food, you also get the chance to make your very own tortilla and cook it on the cooking comal (fat-top griddle).
While guests loved the scenery on this tour and the chance to learn about local flora and fauna, being able to eat with a local Oaxaca family is a once-in-a-lifetime cultural experience as well.
This tour includes transportation to and from the trailhead, an expert guide, food, drinks, binoculars, and access to a first aid kit. Note: The entire tour lasts 4.5 hours, but the moderately-difficult hike is about two hours.
Best Oaxaca tours
⏰ Tour Length: 4 hours | ⭐️ Rating: 4.89 out of 5 Stars | 🚲 Book now
Immerse yourself in a magical and colorful world on this Oaxaca Street Art Bike Tour.
Cycle through three of the best Oaxaca neighborhoods, past women wearing traditional clothing, street food vendors, and historic, charming buildings.
On this Oaxaca street art tour, you'll learn about the residents' struggles, the political protests behind the art, and Oaxacan street art renaissance history. Past guests have loved the storyteller host and tour setting.
This is the most unique bike tour in Oaxaca City to gain insight and appreciation into the world class street art in Oaxaca. The tour includes use of a bike, helmet, bottled water, coffee, tea, and snacks.
Oaxaca City Tours Tip: Take extra water in a reusable water bottle and wear sunscreen. The Oaxaca weather is often very hot during the day all year-long.
Best Oaxaca tours
⏰ Tour Length: 8 hours | ⭐️ Rating: 5 out of 5 Stars | 🥾 Book now
Journey into the beautiful highlands north of Oaxaca on one of the best Sierra Norte Oaxaca tours available, this Pueblos Mancomunados Oaxaca tour.
The Pueblos Mancomunados of the Sierra Norte of Oaxaca are eight self-governing, indigenous Zapotec Villages. They are located a few hours from Oaxaca City, and provide immersive Mexico ecotourism experiences.
The eight Pueblos Mancomunados are: Amatlán, Benito Juárez, Cuajimoloyas, La Nevería, Lachatao, Latuvi, Llano Grande and Yavesía. The nature trails here are a network of rural footpaths that span more than 62 miles (100 km).
It is a virtually-untouched natural area, so you will need to go with a local guide like Ivan to help you navigate this rural area in the Oaxaca mountains.
During this eight hour experience, you'll head to one of the highest points in the Oaxaca state — a scenic village 10,500-feet (3,200 m) above sea level. Here, you'll hike picturesque trails through a cloud forest.
Giant agaves, wildflowers, wild mushrooms, pine trees, and oaks will surround you on all sides. You'll travel between striking rock walls, cross a suspension bridge, and enjoy marvelous views from a stunning overlook.
After the hike, you'll eat a traditional meal prepared by a local family, which is included. This tour also includes transportation from your Oaxaca hotel, entry fees, drinking water to refill your water bottle, and one drink.
Note: Wear comfortable hiking shoes or running shoes and a light rain jacket, as temperatures in Oaxaca are cooler in the mountains than in Oaxaca City.
Best Oaxaca tours
⏰ Tour Length: 5 hours | ⭐️ Rating: 4.96 out of 5 Stars | 👩‍🎨 Book now
Explore the world of Oaxaca art with his fabulous Oaxaca Art Town Tour, also known as the Oaxaca Ruta de Artesanías (Artisan Route). During this intriguing tour, you'll journey to several different towns around Oaxaca City.
You'll learn about the history and processes behind barro negro (Oaxaca black pottery), see wooden alebrije figurines being made, and explore a colorful textile market to shop for tapetes (Oaxacan rugs).
This tour is flexible, so you can wander around at your leisure in San Bartolo Coyotepec, San Martín Tilcajete and Santo Tomás Jalieza. Here, you can see different artisan shops in town, and buy authentic Oaxaca souvenirs.
You'll also enjoy a tasting of Cosha Nuestra mezcal, a brand founded by the tour hosts. The tour includes tasting one mezcal and two curados de mezcal (mezcal creams) at a Oaxaca mezcal distillery.
Besides shopping, guests loved hearing interesting stories from the knowledgeable, passionate guides. You'll have plenty of time to chat in the SUV driving from town to town in your private, comfortable transportation.
Note: Wear comfortable clothes and footwear, bring your camera, and pack extra cash (pesos) if you want to buy handicrafts and mezcal. The guide, Alberto, speaks English and Spanish.
Best Oaxaca Tours
⏰ Tour time: 2.5 hours | ⭐️ Rating: 4.91 out of 5 Stars | 🌮 Book now
Located on the outskirts of town, Central de Abastos Oaxaca Market is one of oldest and largest markets in Oaxaca. If you're looking for anything, you'll probably find it here, as the market spans more than 800 acres (3.25 km²).
While there's a lot for sale here, from fresh flowers to Oaxaca Mexico souvenirs, most visitors make a beeline to try the famous Memelas Doña Vale — as seen on Netflix shows like Somebody Feed Phil in the "Oaxaca" episode.
While you can visit on your own, it's much safer to go here with a local guide. It is intimidating if you've never been to a very crowded Mexican market, and if you don't speak Spanish, the experience is much more stressful.
Led by a Oaxaca local, Javiar will take you to sample the Doña Vale memelas and her morita salsa. He'll also take you to more of the other best places to eat in Oaxaca City — so all you have to do is show up, eat, and enjoy!
Best Oaxaca Tours
⏰ Tour Length: 2.5 hours | ⭐️ Ratings: 4.93 out of 5 Stars | 🥾 Book now
Urban legends, ghost stories, street food, alleys, and old basilicas — all this and more await on this Nocturnal Walk of Urban Legends and Dinner Tour.
Javier (Javi for short), your expert Oaxaca City walking tour guide, will lead you on a walking tour Oaxaca City style. He masterfully weaves together stories, myths, and legends with the architecture around you.
You'll visit the Oaxaca Alley of Death, learn the creepy stories of La Matlazihua and La Llorona, be introduced to spirit guides, and discover local Zapotec and Mixtec rituals.
With near-perfect reviews, you can see that past guests loved learning the traditions, history, and lore of Oaxaca during this experience. Javier does an incredible job sharing stories as you walk.
This 2.5-hour Oaxaca street food tour is held in both English and Spanish. It includes a tasty supper from a street food vendor, drinks, and a mythical wooden Oaxaca alebrije figurine to take home as a Oaxaca souvenir.
Best Oaxaca Tours
⏰ Tour time: 3 hours | ⭐️ Rating: 4.98 out of 5 Stars | 🌮 Book now
Nighttime culinary backstreets and delicious flavors come alive for you on this Oaxaca Taco Tour with Gerardo — which has a near-perfect Five Star rating.
Join top-rated host, Gerardo, on a Oaxaca food truck tour excursion! It will take you to two of the city's most fabulous taco stands in the historic center of Jalatlaco, one of the best neighborhoods in Oaxaca City.
Learn about the history of this fun neighborhood, one of the oldest in Oaxaca, as you enjoy the music and mouth-watering aromas. Next, you'll visit a Oaxaca taquería (taco shop) in the Ex Marquesado neighborhood.
Satisfied, you'll head back to Centro Historico (Historic Center of downtown Oaxaca City) for local Mexican beers in one of Gerardo's favorite hidden bars. If you want to discover the best bars in Oaxaca, you need a local!
Past guests say they loved the value of this tour, visiting the Oaxaca hidden gem neighborhoods, and Gerardo's expertise on authentic Oaxaca foods (especially the tacos), and learning about the city's delicious cuisine.
This tour lasts about three hours and is hosted in English or Spanish. It's a fabulous and safe way to get to know Oaxaca City with a local guide.
Best Oaxaca tours
⏰ Tour Length: 5 hours | ⭐️ Rating: 4.96 out of 5 Stars | 🌳 Book now
If you're interested in Oaxaca mountain bike tours, you'll love this outing to the region's famous Tule Tree. Not only is this giant cypress tree 2,000-years-old, it also holds the Guinness World Record for the widest tree in the world.
This fun Tule Tree & Lake Tomaltepec Biking Adventure will take you on dirt roads and paved roads from downtown Oaxaca to Santo Domingo Tomaltepec. It will be an exciting off-road, and off the beaten path Oaxaca day.
You'll spend time at Lake Tomaltepec, then ride a bit further to the town of Santa Maria del Tule, Oaxaca. Here, you'll see the Arbol del Tule Tree and colorful church next to it, and stop for lunch in the mercado (local market).
After refueling with food and drinks, you'll bike back to Oaxaca City. In total, you'll bike 18.5-miles (30 kilometers), so make sure you're in fair shape before booking.
This tour lasts approximately five hours and includes a mountain bike, helmet, wonderful guide named Ivan who's a Oaxaca local, access to an on-the-go tool kit and first aid kit (safety first!), and all entrance fees.
Best Oaxaca Tours
19. Oaxaca Botanical Gardens Tour
Jardin Etnobotanico de Oaxaca (Oaxaca City Botanical Garden), located in downtown next to Templo de Santo Domingo, is one of the most popular sites in Oaxaca.
This 2.5-acre garden showcases the immense biodiversity in Oaxaca with hundreds of local plants and cacti from all over the state. Due to the fragility of the garden's ecosystem, you can only enter with a guided tour.
English tours take place Monday to Saturday at 11am, and last about two hours. Oaxaca Botanical Garden tours cost $100 pesos ($5 USD) per person.
Best Oaxaca Tours
20. Oaxaca Free Walking Tour
While it may just look like a beautiful colonial city now, Oaxaca City and Centro de Oaxaca (Downtown Oaxaca), dates back to 1529 when it was originally occupied by the native Oaxaca Zapotec people.
Today, it is a mix of old and new. Out of the hundreds of sites listed on UNESCO's World Heritage Site list, very few entire cities have made the cut, but Oaxaca City does.
You can get to know it on the Oaxaca Free Walking Tour. Though free, tips are customary. Consider tipping at least $100 MX pesos per person ($5 USD).
Oaxaca Travel Guide and FAQ
🗺️ Oaxaca Map
🇲🇽 Where is Oaxaca City located?
Oaxaca City is the state's capital city, and located in the center of Oaxaca State. Many think Oaxaca is near the beach, but it's actually about 160 miles (257 km) from the coast.
Oaxaca City is located about six hours south of Mexico City. You can book direct flights from Mexico City to Oaxaca City, or take the ADO bus. I recommend the flight, as it's much shorter but not much more money.
While it will definitely rain quite a bit during the Oaxaca rainy season, you'll also get lower prices, as this is the slow season in Oaxaca.
If you want to avoid the crowds, the Oaxaca busy season runs from about late-October for Day of the Dead, through mid-January.
Many also visit Oaxaca de Juárez (Oaxaca City) for the Guelaguetza Festival in July. This is the second biggest Oaxaca festival, and a very popular event, so book your Oaxaca hotel well in advance.
🌡️ Oaxaca weather Averages
Oaxaca City has a desert climate, so hot days and cool nights. The temperature in Oaxaca City fluctuates a lot, so be mindful and bring layers when packing for Oaxaca.
If you hate the heat, avoid the hottest months of April to May so you have an enjoyable Oaxaca vacation.
Oaxaca City is the country's 67th largest city, with a population of about 275,000, but retains a humble, pueblo vibe. Now, that doesn't mean bad things don't happen in Oaxaca City; they do.
However, if you take the same general travel precautions you would anywhere else — ie. stay aware of yourself, your belongings and your surroundings — you should be safe traveling to Oaxaca City.
⚠️ For a deep dive into this topic and a Oaxaca safety guide, check out Is Oaxaca Safe to Travel to Right Now?
What's the closest Oaxaca Airport?
Wondering, Is there an airport in Oaxaca City? Yes, there's Oaxaca International Airport (code: OAX), located about 20-30 minutes from downtown. ▶︎ Book your Oaxaca flights now!
You might see this airport called Xoxocotlán International Airport, but it is just another name for OAX Airport.
🚐 Best Oaxaca Airport transportation
They do have DiDi Taxi through the DiDi Rider app, which lets you call a Oaxaca taxi via the app. It's basically like using Uber or Lyft, but you will get a regular cab.
🚕 Are taxis safe in Oaxaca Mexico?
For the majority of travelers, yes, taxis are perfectly safe to use in Oaxaca.
I personally prefer to call taxis via the DiDi Rider app, so I have a record of my trip and the price is already set for me, but you can also just hail a cab on the street.
If you're doing Oaxaca day trips, a rental car or group tour is your best bet, and I recommend booking Oaxaca tours via Viator and Airbnb Experiences.
The best things to do near Oaxaca include exploring Hierve el Agua in San Lorenzo Albarradas, San Agustín Etla, Teotitlán Del Valle and San Pablo Villa de Mitla, a pueblo magico (magic town).
Planning to visit the best beaches in Oaxaca, including Puerto Escondido, Huatulco and Mazunte? For a Oaxaca City and Oaxaca beaches trip, you'll need at least a week or two.
If you're really wondering, Why is Oaxaca so popular? The answer is likely for the food. In fact, Oaxaca is known as the Foodie Capital of Mexico, so try both the street food in Oaxaca and the restaurants in Oaxaca.
For a deep dive into this topic, check out this What is Oaxaca famous for? article. In it, you'll learn even more about what makes Oaxaca unique.
As you'll usually need to take at least two flights to Oaxaca, Mexico, or a flight and a bus if you're coming from Mexico City, wondering if traveling to Oaxaca is worth it is a totally valid question.
I hope this guide to Oaxaca made it clear that FU+K YES IT IS!
There's everything from rich history, colorful festivals, UNESCO World Heritage Sites, locally-made mezcal, beautiful nature, colonial buildings, indigenous artisan communities, and of course, the yummy Oaxacan food.
Final Thoughts: Best Tours in Oaxaca Mexico
As you can see, the best tours in Oaxaca take many forms. There are numerous ways to enjoy the magical region of Oaxaca with its ruins, natural splendor, hopping arts and crafts scene, and delicious gastronomy.
Tours from Oaxaca City let visitors explore the alleys and cathedrals of the city after nightfall to learn its legends, and visit artisans adept at pottery, textiles, wood-carving, and candle-making.
You can shop and eat your way around the colorful markets of Oaxaca, or delve into the ancient world on a Oaxaca Monte Alban tour to see the best ruins on your trip to Oaxaca Mexico.
Whether you choose walking tours in Downtown Oaxaca, a journey into the stunning Sierra Norte mountains for some hiking, or a Oaxaca cooking class, you'll discover a rich cultural landscape and make amazing memories.
So what are you waiting for? Book one (or several) of the amazing tours in Oaxaca City and its surrounding areas featured in this article ASAP.